Marcus Podorf has a unique brand transformation and marketing strategy background. Having worked with rare clients in the high-end sector, such as BDO AG, airtours, Lufthansa, the Media.Monks, Mercedes-Benz, Markem-Imaje and BMW, we have achieved outstanding results through vision, hard work and attention to detail.
In addition, Marcus Podorf has delivered several premium brand relaunches and highly complex transformation projects. Our founder's passion for business, brand and integrated marketing excellence is reflected in our expertise in establishing, maintaining, and sustaining outstanding brand excellence through strategic leadership capabilities. Please find an overview of Marcus Podorf's most recent and high-profile, non-confidential projects and responsibilities below.
BDO AG x SAP
Strategy Advisory – Communications Strategy, global SAP-win
2020 – FY-2023
Brand Repositioning & Brand Perception Change for global SAP-win, FY-2023
Value Proposition Design & Communications Strategy for global SAP-win, FY-2023
Global Business Operations Model (Visual Concept for further execution and implementation)
'BDO's picking up of SAP's audit contract from the 2023 financial year represents further progress then, as the software company is its largest ever international client. SAP is the world's largest provider of business software and has the largest market capitalisation in the DAX-30.' – Consultancy.uk
BMW Austria, Eastern Europe, Germany & Switzerland
Digital Aftersales Strategies, Concepts & Campaigns
2021-2023
Lead for Design, CRM & Intelligence Projects
Modular Aftersales CRM Newsletter Concept and Redesign for BMW
National and transnational Campaigns
'No one is as thorough as Marcus Podorf!' – Program Lead BMW Germany, Media.Monks and THE MARCOM ENGINE
UX Strategy, Concept & Execution
2021
tom logisch® – exploring the world in a better way
tom logisch® at 60th Salón Náutico, Barcelona
2022
tom logisch® Rebranding
2020/2021
Repositioning, rebranding & website relaunch for Europe's leading yachting solutions provider
Design
Code, Content & CRM (Automation, Intelligence)
Newsletter design & execution
Additional Business & Senior Advisory Services
'Marcus Podorf has pushed our business really forward!' – Thomas Logisch, Founder & CEO
thjnk Duesseldorf x thyssenkrupp infrastructure
Director of Rebranding for the global civil engineering solutions provider thyssenkrupp infrastructure
2021/2022
Rebranding of thyssenkrupp infrastructure (internationally)
Strategy & Repositioning for thyssenkrupp infrastructure after the Carve-out
Corporate Identity & Corporate Design development
Design execution and implementation
Toolbox of communication measures and assets
Business & Senior Advisory Services for thjnk and thyssenkrupp
'Thank you for everything. You did a mega job – we love your accuracy very much!' – thjnk
UX Design Strategy & Concept
2022
kolula SUP
Relaunch of the Webapp – UX-Strategy & -Concept
2020
Review & Assessment, Scoping based on Analytics Data
UX-Strategy & -Concept
Branding & Brand Device Definition
'The rental is absolutely smooth.' – Review of the German Gründerszene magazine, August 2022
Deutsche Bahn AG
Management Consulting & Strategy Advisory – CX Strategy
2020
Service transformation and customer experience strategy, context 'Deutsche Bahn 2030'
Hyundai-N
Strategy Advisory / Interim Director, Brand Strategy & Planning – Global Brand Repositioning
2020
Market & communications analysis
Brand repositioning strategy, brand purpose design
Strategic planning, communications design (lead gen, CRM, sales, after-sales, retention, churn)
'Our best pitch ever!' – Head of Business Development, Hirschen Group
Globus Group, Germany & Russia
Strategy Advisory / Interim Director, Brand Strategy & Planning – Holistic Marketing Strategy
2020
Purpose modelling, brand repositioning strategy
Trend analysis
Market research
Market analysis & market segmentation strategy
Competitive audit and audience planning (customer base & conquest)
Strategic planning, communications strategy & design (UX/CRM/CX)
CRM & Business Intelligence setup ('Digital Outlook 2025′)
Business Continuity Planning
Planning new products & services
'The Hirschen Group can be happy about a new client from the retail industry. In the future, the WPP shareholding will work for the Globus hypermarket chain. The company, which is headquartered in St. Wendel, Saarland, decided to cooperate with the WPP holding after a multi-stage pitch with a total of eight participants. The cooperation is unusually long-term: The contract runs for five years.' – Horizont
Zwiesel Glas
Strategy Advisory / Interim Director, Brand Strategy & Planning – Repositioning
2019
Strategic brand narrative, context: Zwiesel Glas Relaunch 2020
Strategic sales narratives & sales booklet, international
Claim / Positioning statement
AI-Study, FUTaf '19 at Federal Foreign Office
Workshop Participant
2019
Sky X
Freelance Director, Brand Strategy & Planning – Positioning & Launch Communication
2019
Communications planning (Austria)
Creative Messaging
Product positioning / Campaign Claim / Claiming the unique Sky X territory within Austrian Gen-Y and Gen-Z
LinkedIn
Strategic Planning / Interim Director, Brand Strategy & Planning – Repositioning & Communication
2019
Strategic positioning opportunity for career startes (DACH)
Zalando – Zalando Outlet Stores
Interim Marketing Lead, Germany
2019
Consumer insight generation
Marketing & Customer activation strategies
Strategic CRM and digital transformation strategy (UX/CX/BI)
Creative Messaging
Tactical campaigning & partnerships
Expansion & Store Opening communications
Budget & KPI responsibility, media (ROI/CLV) planning
Wantedly Inc.
Strategy Advisory, Brand Strategy & Planning – Positioning & Launch Communications DE
2019
Brand Positioning for Germany
Communications Strategy & Planning
Textbook Execution
Markem-Imaje, the world-leader in CPG Tech (B2B)
Delivered the international transformation for the premium B2B brand
2018-2019
Customer interviews & segmentation, Analysis & Review of Big Data
Customer insight generation
Market review & competitive audit – Heritage, extended competitive set, near and mid future
Company and service analysis, defining future requirements
Strategic positioning opportunity (refinement)
Brand repositioning strategy & execution outlook
Brand transformation & transition strategies (implementation outlook)
Productisation – New Product & Services Design
Naming & Portfolio structure
Corporate change & communication strategy, incl. Creative Messaging/Value Proposition Design
'Thank you, Marcus, you've been great!' – Geschäftsleitung, VORN Strategy Consulting
Lufthansa
Interim Head of Lufthansa 'New Premium' Brand Refresh at DDB, Germany
2017-2018
Led and managed the strategic direction for the Lufthansa premium brand refresh (BTL) and Lufthansa Group Airlines rebranding for DDB Tribal, Hamburg.
Provided expertise and leadership in the transition for Lufthansa BTL, digital and CRM account for DDB Tribal and Lufthansa.
Led Lufthansa New Premium Brand Refresh by establishing key performance indicators on the development, requirements and management of projects, sans compromising the goals and profit of the organization.
Culture change and transformation, transition and team building.
Development of brand and digital strategy, platform concepts, tone of voice, CRM, including BX/UX/UI.
Content strategies and asset production.
'Thank you, Marcus! We couldn't have done it without you!' – Member of the Management Board, DDB Tribal
Review the story on Medium: The Lufthansa New Premium Brand Refresh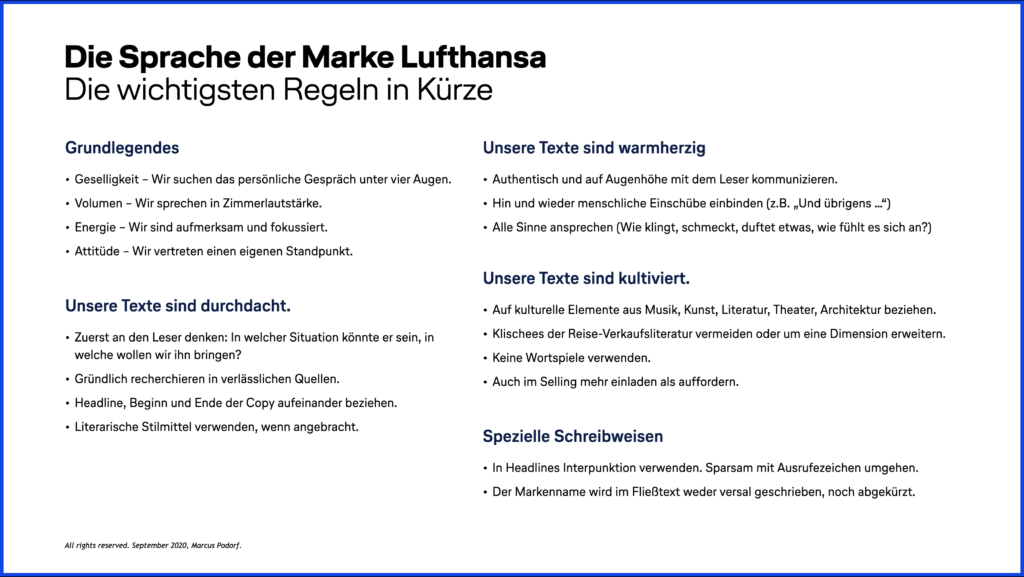 Marcus led the elaborate and highly complex Lufthansa rebranding at DDB with an experienced hand. He was able to easily bring together the many strands (creation, process, brand, resources…) and prepare the new brand identity of the DAX-member and German love brand.

I particularly appreciate Marcus' ability to think outside the box and his vision, which is always based on his in-depth professional expertise and many years of experience in global brand management.

Marcus is the most committed freelancer I have ever met. Content-driven and always honest, he is always 100% committed to the team and the long-term vision of the brand beyond the project.'

– Tillmann Kühn, Director, DDB Group
Review the story on Medium: The Lufthansa New Premium Brand Refresh
Lufthansa Group Airlines
Leadership & B2B2B Rebranding Strategy for DDB & Tribal, Hamburg
2017-2018
Mercedes-Benz
CRM account transition and set-up, CRM strategies and digitalisation, Car launches
2016 -2017
Led the transition for the CRM account of 7 digits of budget for Mercedes-Benz, including Mercedes-Benz Cars, Mercedes Maybach, Mercedes me, and Pullman lines, within a highly complex start-up business of 6 months young with fast-growing environment. Provided education for the creation team and a culture task force due to a huge increase of multinational and multicultural personnel entering the company after the second month of assumption.
Institutionalised strategies and concepts.
Managed customer acquisitions and brand-building campaigns for more than 128 markets, CH, EU, and US.
Planned and supervised the launching of communication for more than 13 new car series for the global markets which was delivered within the scheduled period and on the budget by collaborating with all business units.
Managed 2 CRM consultants and additional, dedicated campaign teams.
Implemented business development and change strategy for CRM which is the cornerstone of all marketing and campaign activities.
Initiated the development of new products, services, and applications.
Monitored budget expenditures, and advised and supported the clients in the restructuring process for digital transformation of the specific business area.
Achieved the second best client rating among all agency units, securing agency bonuses and increasing engagement, for two consecutive period, which was a clear indication of strong and trustful client relations and improvement in all areas of the account.
'Marcus has an excellent understanding of CRM. He was a real asset for us—and a reason why we rated the agency better.' – Director CRM and Campaigning Mercedes-Benz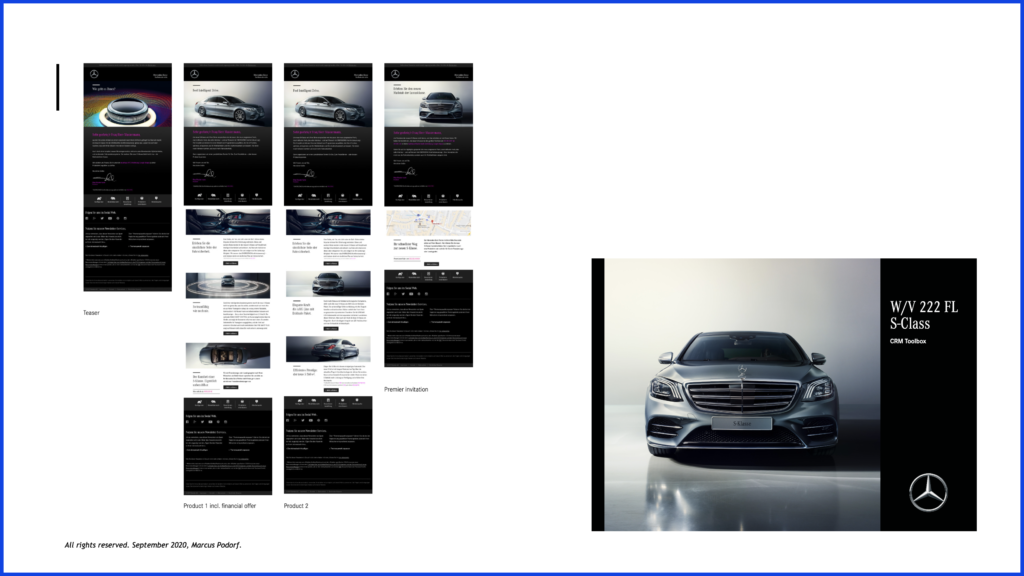 Home of the Wild
Branding & Branded Website – https://homeofthewild.com
2015
Brand Design
Website Design
Website Content Strategy
Website Code
Booking Engine & CRM
Administration & IT Services, Maintenance
'Make Love' Movement
Strategic Consulting & Advisory Services for Ann-Marlene Henning, Initiator & Founder of the Make Love Movement
2012-2013
Delivered workshops, personas/audience profiles, brand and content architecture and advisory services for Ann-Marlene Henning, founder and author of the Make Love Movement (books, TV series, online activities, social media, content hub, podcast blog, vlog, and other media formats).
Advised also for TV station tender and business setup
Marcus Podorf was not involved in the further execution process (executed by public-service broadcasters)
Nominated for the Grimme Online Award 2014
T-Systems – 'Champs for Champs' UX & Campaign
Champs for Champs campaign ecosystem
2012-2013
UX strategy for Philipp & Keuntje, Hamburg:
Planned campaign-experience
(Digital) communications and conversation strategy
Audience planning
User engagement and re-engagement strategy
Promotion mechanisms and Follow-up campaign
airtours
Holistic Relaunch, Digitisation, CRM and Marketing Strategies for airtours, the luxury brand of TUI travel
2009-2012
Won airtours luxury brand account for Wunderman and led and managed the strategic and creative direction for the airtours brand relaunch. Mastered the roll-out on time, on budget and within nine months of winning the pitch.
Led and supervised brand vision to brand excellence
Led the implementation of the brand identity in Germany and Russia (B2B/B2C/B2B2C).
Provided expertise and leadership for more than 88 people, 5 offices in 2 countries involved, 30 direct reports.
Developed winning marketing strategies (B2B/B2B2C/B2C), communication plans and customer journeys.
Planned stakeholder events and launch communication.
Consulted for CRM strategies, CRM technologies and implementation with my team.
'You did great work. And it was truly an amazing time I'll never forget!' – Stefan Schaub, Director Brand Excellence, airtours
Review the full case study on Medium: Relaunch of a Luxury Travel Brand
'In the beginning of 2017, almost 8 years after the relaunch, airtours was able to announce that the average age of its customers had dropped from 55 years (2011) to 45 years and that 34% of its customers were regular customers.' – airtours Public Relations, 2017
'airtours continues to be the market leader in the luxury segment with the most comprehensive range of high-quality trips and a significant share of tailor-made individual trips for the German market.' – airtours Public Relations, 2017
Review the full case study on Medium: Relaunch of a Luxury Travel Brand
Vattenfall Europe
Relaunch and digitalisation of the "Vattenfall Highlights" loyalty program
2008-2012
Supervised the account Vattenfall Europe and its loyalty program "Vattenfall Highlights." for The Wunderman Network.
Set up and supervised an integrated team for quarterly releases (direct, online, eCRM).
Planned budget, communication strategy and program development.
Led change and initiatives for the digitalization of the program.
Developed concepts for print and web publishing processes, and program activation.
Citibank Germany
Integrated marketing, rebranding and transition – Direct Sales & Marketing
2008-2010
Supervised the account and an integrated agency team (15+ people) for The Wunderman Network.
Developed strategies and concepts for above and below the line, direct and remote/online media.
Led various campaigns and lead generation projects.
Led rebranding processes from Citibank Germany to Targobank through several pitches.
Lufthansa Miles & More Credit Card
Led the brand flip from Visa to MasterCard and CRM for the Lufthansa Miles & More Credit Card
2006-2007
Won brand flip project for weigertpirouzwolf and led and managed the strategic direction for the brand flip from VISA to MasterCard. Mastered the holistic relaunch on time, on budget and within six months.
Planned, budgeted and led the brand flip.
Provided expertise and leadership for more than 20 people across 6 companies involved, 6 direct reports.
Account Reset
2006
Led the turn-around, changes and transition to secure the key account for weigertpirouzwolf. Set up and supervised an integrated dialogue marketing unit as consquence, responsible for creative conception, budgeting, production services and quality management (team of six people).
Planned and executed CRM program activities (acquisition, loyalty, churn, retention).
Led the holistic brand flip for the account from VISA to MasterCard across various stakeholders and partner companies.
EnBW/Die SüdBeste
Led the brand and loyalty program launch for EnBW
2007
Supervised the account and led the implementation and launching of the new SüdBest brand across all channels and media (ATL, Out of Home, Direct, CRM) for weigertpirouzwolf.
Managed program communication and activation.
Monitored budgeting, managed and supervised photo productions and ensured integrated campaign experience (ATL, BTL, direct, CRM).
markilux®
Led the brand relaunch for the premium brand markilux®
2004
Won markilux® Account for KP&Z, managed the strategic direction and implementation of the holistic brand relaunch (B2C, B2B).
KONICA MINOLTA Europe
Led the rebranding and CRM campaigns for KONICA MINOLTA Europe
2003-2006
"Konicaminolta-123.de" Print-on-Demand Publishing Platform
2003-2006
Designed print-on-demand publishing platform, Konicaminolta-123.de.
Business model, UI/UX concepts, template developments and implementation.
Naming, branding and roll-out communication.
"Scranning" CRM Campaign
2003-2004
Planned, executed and managed the real-time CRM campaign "Scranning" for Konica Minolta, awarded the DDP Deutscher Dialogmarketing Preis 2004 best in class.
Recruited, built, trained, coached and supervised dedicated campaign team of ten people.
Led infrastructure development (technology, processes, tools, CRM software, In-/Outbound Services).
"e-bizhub" CPC Tracking Platform
2003-2004
Gained experience in transformative business models (e-business digitalization).
Platform conception, platform implementation and management.
Developed the concept for the international e-bizhub platform for dealerships and their clients.
­Managed platform implementation and roll out.
Rebranding
2003
Supervised the account, led national change strategy, local rebranding (B2B, B2B2B) and implemented several online and offline measures and campaigns after the merger of KONICA and MINOLTA.
Gained experience in mergers, relaunches, brand transition and transformative business models.
Led several B2B acquisition, product and brand awareness DM campaigns across all channels and media.
Led literature development and various CeBIT activities.
Directed and implemented DDP and Red Dot Design Award campaigns in 2004.
And more